WhatsApp officially rolls out new Snapchat-like disappearing message features within individual and group chats. This feature is now available for all WhatsApp users on Android, iOS and web as well. When you send message in WhatsApp it automatically disappears from chat after seven-days by enabling disappearing messages feature. In case of group chat, only the group admin can turn on or off disappearing messages. There are some exceptions, such as quoted message remains visible even after seven-days. Lets see how to send disappearing messages on WhatsApp.
How to Enable disappearing messages ?
Before enabling this feature your phone must have latest WhatsApp version, for android the version is 2.21.206.15 and for iPhone users, it's 2.21.121.4 version.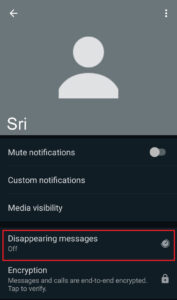 Open WhatsApp chat and choose contact info and scroll down to get disappearing message feature.
Now select Disappearing Messages, select continue and tap On to enable this feature.
Once this is done, your chat will automatically disappears after seven-days.
Once disappearing message is turned on you will see timer icon near display picture. You can disable this feature at any time you want. Unlike telegram or Snapchat, WhatsApp does not provide multiple timing options, which means you are provided with only seven-days option as of now. You will have to enable this feature in chat by chat.
How to Disable Disappearing Messages
Users can enable/ disable anytime they wish to. This disappearing message feature can be turned on/off using same procedure on WhatsApp web application as well.
Open the WhatsApp Chat and select contact info.
Select disappearing message and tap on OFF to disable this feature
Once it is turned OFF, your chat will no longer get disappeared after seven-days.
Frequently Asked Questions
What if I don't open WhatsApp in the period of seven-days?
Well! your message gets disappeared, however the preview will be available in the notification until WhatApp is opened.
Will my media file get deleted in disappearing message feature?
No, Users media file gets disappeared not deleted. User's media file get stored on their phone storage.
Will my Back up file contain disappearing message ?
Disappearing messages will be deleted after seven-days when a user restores it.
Is it possible set time for messages to get disappeared?
No, by default the chat will disappear after seven-days.