On Tuesday, Google has launched 'People card', which allows users to create create a virtual business card on search. It is launched to make search more useful for people in India. Google has been testing a virtual visiting or business card that could show on the search result when someone's name is being searched. Now Google has rolled out this feature in India. The People Card is aimed to offer a virtual business or visiting card on the search engine, showing their social profiles, websites, and adding little information about them.
The ultimate aim is to provide individuals, freelancers, business professionals, influencers, entrepreneurs to be discovered on search. Creating people cards seems to be easy; you only require a mobile number and a google account. Google doesn't show your phone number, but still, it is necessary for authentication purposes. This feature is available only for mobile, that is you can create a public profile only from mobile.
How to create People Card on Google?
The ultimate guide to create Google People Card.
Total Time: 10 minutes
On your Mobile Device, Sign in to your Google Account, search your name or type "add me to Search " on Google.
You will get a result stating to add yourself o google search" click on get started.
Enter your Phone number for verification and enter the six digit otp to continue.
Start creating your virtual business card by uploading your photo, adding description, links to your personal website and social profiles. You can also add up your phone number and email if you wish o display.
Once everything is done,  click on Save.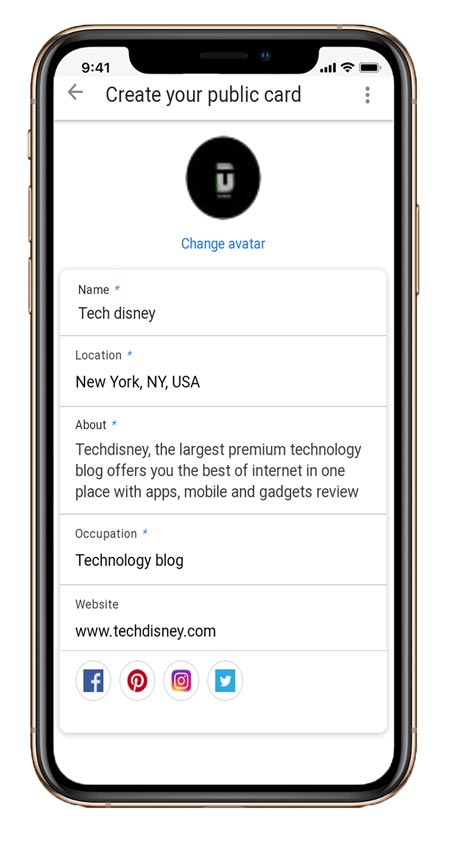 Is Google People Card Secure?
Google claims to offer people cards more reliable and helpful. They have added few security features to safeguard against offensive content. Users can flag abuse, if hey find any low-quality content. The pieces of information will be limited to the name, profession, locations, social profiles, and websites. People with the same name, the search will show multiple modules, the description occupation and the profession will help find the right person.
Google users who have opted for people cards can cancel this at any time. Users can flag abuse if they find anything odd or misleading information on some other card. Moreover, only one card can be created per user.