Factory resetting your iPhone or iPad will completely blank out all your data. However if you have planed of resetting your iOS device, the most important thing you must do is to backup to iTunes or iCloud.
If your iPhone is facing storage problem, Factory reset will return your device in factory condition. Resetting your iPhone is a simple process you just have to go to Settings > General > Reset > Erase all Content and Settings.
There are few steps to be followed before doing a reset. In this article you will be guided how to factory reset an iPhone. Whether it's an iPhone XS, iPhone 8, iPhone XS Max, or an iPhone 11 you can follow the steps given below to reset iPhone.
Why should I reset my iPhone?
A factory reset is performed when your iPhone is not functioning properly or misbehaving, even though you should try restarting it (soft reset), if nothing happens you can factory reset your phone. This is the quickest way to fix issues in the iPhone. If you have planed of selling your phone you must reset it, if not the buyer could gain access to your data.
Is your iPhone not functioning or responding? Follow our guide to factory reset iPhone,
Open Settings > General > Reset.
Select 'Erase all content and settings'.
Enter your passcode /Face ID/fingerprint.
Select 'Erase iPhone/iPad'.
Enter the Apple ID password.
Now your phone starts to factory reset.
Backup your iPhone
Before doing the above-mentioned steps, you must have backed up your device. There are plenty of ways to backup your phone. Many third-party applications are available for iPhone but Apple for security reasons have their own backup applications like iCloud and iTunes. Most of them prefer going with iCloud backup rather than iTunes as they can view their data just by logging in to iClouds which is not available on iTunes.
Every mobile phone are filled with photos, videos, messages, etc. which are sweet memories. So the best way to save your sweet memories is to create a regular backup. Nothing is more important than your data.
iCloud Backup
Apple offers you 5GB free storage on purchase of any Apple device. You can use that space for your iCloud backup, to keep your photos, videos, documents, notes, contacts and more. However, most iOS user prefer iCloud, as you can view their copy of the information on your iPhone.
To know whether you have enabled iCloud backup option, go to settings > iCloud > Backup and make sure that you have enabled this feature. Details of the last backup will be given in iCloud backup section. If you haven't backed up before following the steps given below.
Go to settings > Your Apple id > iCloud > Backup turn ON this option.
connect your device to a fast WiFi network and to a power source.
Now Sit back, grab a cup of coffee and relax, your precious data will be backed up.
iTunes Backup
To backup using iTunes, you need a PC or Mac. If you have MAC no problem because iTunes will be already installed in it, but for windows you need to download from Microsoft. Normally iTunes backup is faster than iCloud backup.
Connect your iPhone to PC or Mac using a USB cable.
Allow accessing your iPhone to your computer.
Unlock your iPhone and Tap on "Trust This Computer".
Click on Summary > Backup Now.
iTunes starts backing up your device.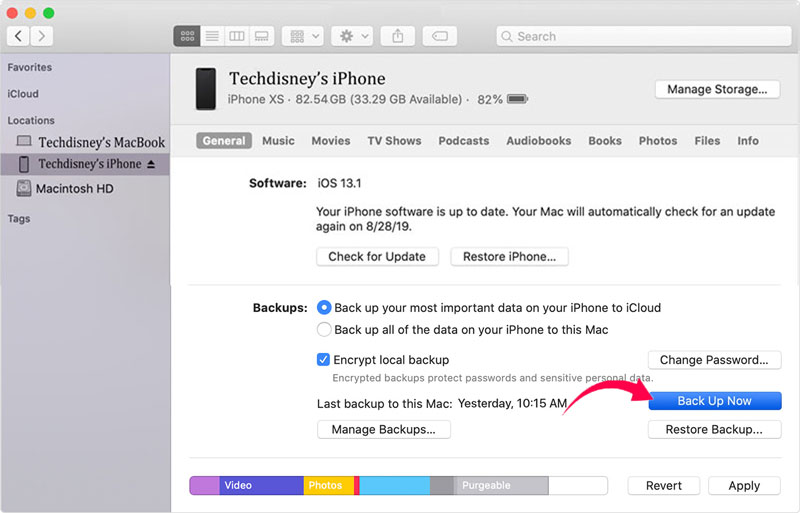 How to restore my backup?
Restore via iCloud, After successfully factory resetting your device, Go to Apps & Data screen tap Restore from iCloud Backup, sign in with your Apple ID and Tap 'Choose backup', then choose available backups in iCloud.
Restore via iTunes, As you start your phone after reset, you will be asked to 'Set Up iPhone'. After that you will have few options, further Tap 'restore from iTunes'. Meanwhile connect your iPhone to Mac or PC, unlock your iPhone. In iTunes, section select restore a backup. Grab a cup of coffee and relax until your restoration finishes.